Состав рекламного рынка
Победители в номинации Outdoor
Grand Prix


Khede Kasra

Subgroup: Social & charity

Registrant: LEO BURNETT BEIRUT
Country: LEBANON
Brand name: Women Empowerment Program
Advertiser: Hariri Foundation
Advertising agency: Leo Burnett Beirut, Beirut
Creative director: Bechara Mouzannar / Chermine Assadian
Art Director: Tania Saleh/ Nayla Baaklini / Reem Kotob / Lea Salibi / Roula Asmar / Yasmina Baz
Copywriter: Rana Najjar / Rana Khoury
Short description: The Hariri Foundation wanted to address the imbalance of gender roles in Lebanese society, through their "Women Empowerment Program". The Agency chose to tackle gender inequality by challenging the premises on which people's daily vocabulary is based. Spoken and written words in the media which would otherwise be addressed to men by default, were altered with a "kasra" accent, to address them to women instead. This was extremely relevant to the client which had been heavily researching the depiction of women in the media. With a call for action line that encouraged women to "make your mark", the target audience that included every Lebanese woman from every possible demographic, was inspired by such a simple idea. The meaning behind literally changing the word empowered them to actually change their reality with their own hands. The campaign was typographic and minimalistic in nature. This served to accentuate the red "kasra", which became the bold symbol of women empowerment. An outdoor teaser campaign demonstrated how all men and women read words as being automatically addressed to men. The "kasra" accents on revealers twisted their meanings. This concept was translated into a TVC, reaching the masses during popular Lebanese shows. It was also adapted to radio. Since radio is an audio medium, we wanted to use situations in which the written word directed to males is actually spoken. Typically recorded automated telephone messages were used. To reach the country geographically and all women demographically, a moving interactive billboard as well as posters were set up, whilst stickers were distributed, in rural and upscale areas, to engage the public and physically get them involved. The campaign also hit the digital circuit, through emails, Youtube, and Facebook, reaching the Lebanese internet population.
Others: Nada Abi Saleh / Dima Kfouri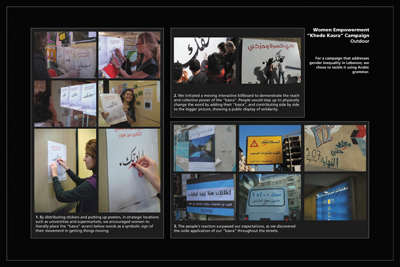 Golden Drum


Headache 1

Subgroup: Health & beauty

Registrant: GRAFFITI BBDO BUCHAREST
Country: ROMANIA
Brand name: Aspirin
Advertiser: Bayer
Advertising agency: GRAFFITI BBDO
Creative director: Ema Prisca
Art Director: Gelu Florea
Copywriter: Ana Maria Taralunga
Short description: In order to promote the pain reliefing effect of Aspirin from Bayer, we created some graffiti showing people hurting while exposed to head, back and muscle pains. We made use of the OOH frame and its close surroundings (walls, pipes, stairs etc) who worked like pain generators for our graffiti drawn fellows.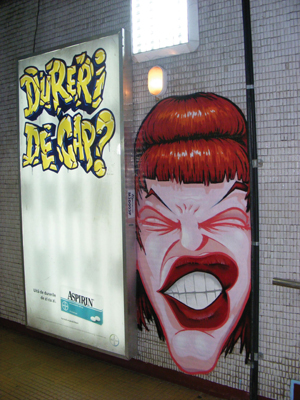 ---

Outdoor Messages

Subgroup: Communication products & services

Registrant: MUW SAATCHI & SAATCHI, SPOL. S R.O.
Country: SLOVAK REPUBLIC
Advertising agency: MUW Saatchi & Saatchi, Bratislava
Production house: Hitchhiker films, Bratislava, E-MOTION, Bratislava;
Media agency: Mediaedge:cia, Bratislava
Creative director: Rasto Michalik
Art Director: user generated content,
Creative team: Mario Poor, Ivo Zemanovic, Gergely Nemeth, Manuel Campagnoli
Copywriter: user generated content,
Creative team: Peter Rajcak, Milan Bielik, Zuzana Ferusova
Designer: MUW Digital, iCommerce
Others: Programmer: MUW Digital, iCommerce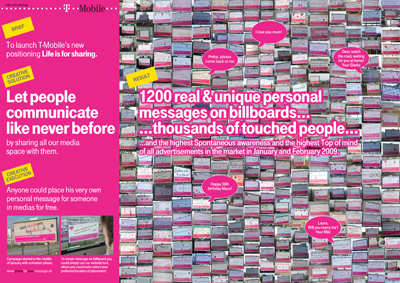 Silver Drum


Garden Furniture Set

Subgroup: Social & charity

Registrant: CHANGE INTEGRATED
Country: POLAND
Advertising agency: Change Integrated
Creative director: Jakub Korolczuk, Ryszard Sroka
Art Director: Jakub Korolczuk, Ryszard SrokaDesigner: Ivo Nikic
Short description: Challenge: We all know what garbage is. But hardly anyone knows what it might become. Maybe that is the reason hardly anyone segregates them. Idea: Let's prove that properly segregated garbage may have life after life. Execution: We have built 3 sculptures made of plastic, metal and glass. We've set up the light in a specific position to cast a shadow of sculptures and in this way to show what the garbage may change to.
Others: Dorota Siedadzica - producer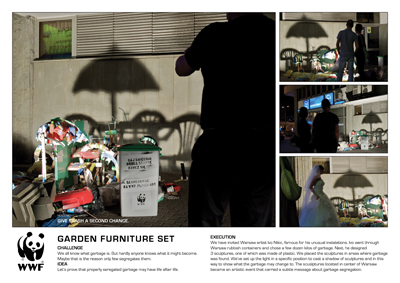 ---

Table

Subgroup: Home furnishing & appliances

Registrant: DDB&CO.
Country: TURKEY
Brand name: Second Hand furniture
Advertiser: Dank
Advertising agency: Ddb&Co Istanbul
Creative director: Karpat Polat
Art Director: Luis Tauffer
Copywriter: Karpat Polat
Photography/Ilustrations: Alair Caliari / Fabio Hentz
Others: Typographer: Mehmet Hasilci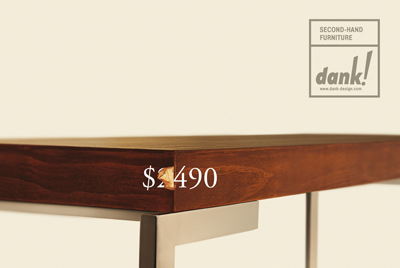 ---

Toyota Greeting Card

Subgroup: Automotive

Registrant: SAATCHI & SAATCHI/PUBLICIS GROUPE SLOVENIA
Country: SLOVENIJA
Brand name: Toyota
Advertiser: Toyota Auto Lovse
Advertising agency: SAATCHI & SAATCHI / MEMBER OF PUBLICIS GROUPE
Creative director: Matej Kodric
Art Director: Aleksandar Jordacevic
Copywriter: Tine Acimovic, Irena Marcetic, Matej Kodric
Designer: Aleksandar Jordacevic
Short description: Wishing hapy new year with sticker on the break light.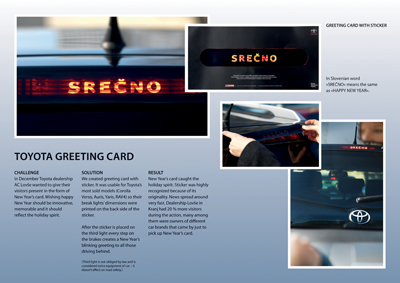 .2009

Загрузка...
Golden Drum 2009
Golden Drum 2009, 2009 г.